In Business for Over 35 Years!
Looking to buy used cars in Toronto Canada? Search our quality and thoroughly inspected
used Acura
,
Audi 
,
used BMW 
,
Cadillac
,
Chevrolet
,
Dodge
,
Ford
, GMC,
Honda
,
Hummer
,
Infiniti
, Jaguar, Jeep, KIA,
Lexus
, Lincoln, MINI, Mazda, Mercedes-Benz ,
Nissan
, 2012 Nissan Pathfinders for sale in Toronto , Pontiac, Toyota, Volkswagen
, VW Tiguan, Jetta, 2011 Audi S4 and more for sale in
Vaughan Greater Toronto
Ontario Canada.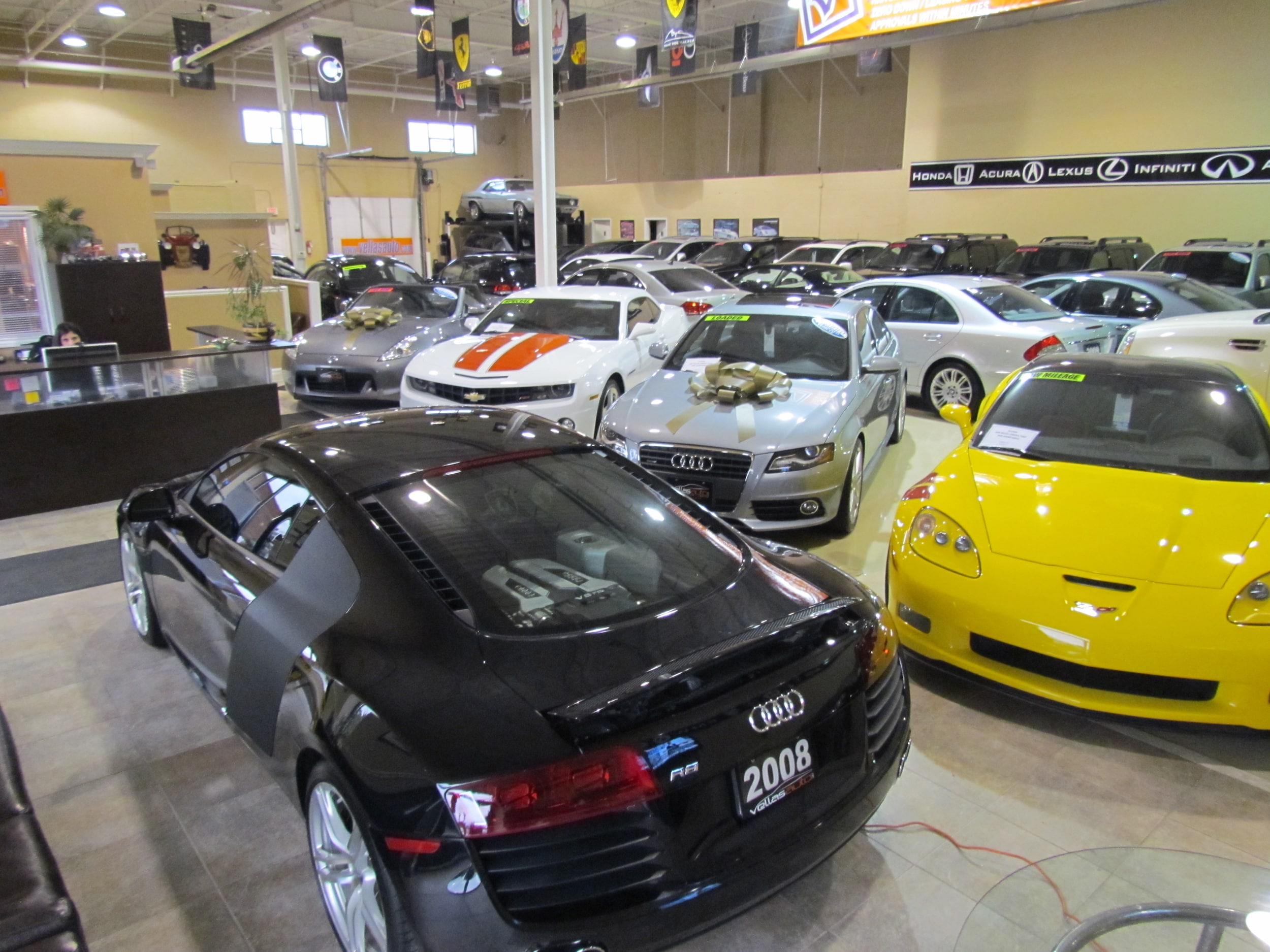 Come visit us to test drive before you buy a Toronto used BMW, Mercedes-Benz, Acura, Audi, Chevrolet, Infiniti, Lexus, Ford, Corvette, Audi A3 , Hummer, Pontiac, speak to one of our experts, or discuss financing options. You can also call us at our number above. Vella's Auto Sales & Leasing provides quality vehicles from  to the Ontario area. Our large selection ensures that we have a vehicle for everyone, no matter what it is you're looking for.

Best Used Cars Toronto Residents Can Trust

For a quality used car in Vaughan or Toronto, best Toronto online dealership reviews, visit 260 Jevlan Drive Unit #4, Vaughan Ontario GTA. We have a large inventory of pre-owned cars, trucks, SUVs and mini-vans to select from, as well as, great Vaughan bargain used cars. At Vella's Auto Sales & Leasing we pride ourselves in the quality that we offer on all of our used cars, which makes us a major destination for used vehicles around Vaughan. Check out our 2012 GMC Terrain  and 2012 Nissan Pathfinder  vehicles in Vaughan Greater Toronto. Come see us today and we'll help you drive away in your dream vehicle!
More About Buying a Used Car in Greater Toronto, Mississauga, or Richmond Hill

Vella's Auto Sales & Leasing in Toronto offers a variety of automotive services at one convenient location. Are you wondering how you are going to pay for your new vehicle purchase? Visit our finance department where our financial professionals will review the various used car loan and lease options that are available on the vehicle you are interested in purchasing.  By working with a variety of financial institutions, we are the  dealer that will get you low interest Car Loans in Toronto Ontario . Fill out the Vella's Auto Sales & Leasing finance application and begin the car loan process from the comfort of your own home.
Get professional car repair at Vella's Auto Sales & Leasing's state of the art service facility. The Vella's Auto Sales & Leasing car repair experts in Toronto will correctly identify and review your vehicles problem and make a repair as quickly as possible.  Schedule  car repair in Vaughan by completing our online service application.
The entire staff at our Vaughan Greater used cars Toronto dealership would like to thank you for your interest in Vella's Auto Sales & Leasing. Please contact us anytime by phone, email or by following our step by step directions. Have questions about car buying or trade-ins on used Toronto Audi, Acura, Cadillac, BMW, Dodge, Nissan NV 2500, Chevrolet, Ford, GMC, Honda, Hummer, Infiniti, Jaguar, used BMW 750 Series, Chevrolet Camaro ZL1, Jeep, KIA, Lexus, Audi S4, 2011 VW Tiguan, Jetta, Audi S4, Lincoln, Mazda, Ford Mustang Shelby GT500 , MINI, Luxury Mercedes-Benz Vehicles, Pontiac, Nissan, Toyota, Volkswagen and more for sale or financing in Vaughan Greater Toronto, Woodbridge , Mississauga, Scarborough, Ottawa, Barrie or near Richmond Hill Ontario? We are just a phone call or email away for the best used cars Toronto has to offer. Take a look at this beautiful Lexus LF-LC Concept coupe.
Ever heard the saying "You Get What You Pay For"? If you find lower prices in Toronto, Woodbridge, Mississauga, Barrie, Ottawa, Scarborough on our used Lexus RX350, Lexus IS250, Audi A3, Acura TL, 2012 GMC Terrain, 2011 Toyota Highlander, Nissan Pathfinder, Mercedes-Benz ML Diesel, Nissan Altima, and Luxury BMW 750 series or any other used car for sale in the Greater Toronto Area, there is a reason. At Vella's Auto Sales and Leasing, we are in the business of selling the best pre-owned vehicles Ontario has to offer. Cars that have been purchased after knowing everything about the vehicle that a customer would want and trust.

Buy the Best Used Vans and Trucks

For Toronto's best in used Nissan NV 2500, 2011 Ford E-250 Cargo, 2011 Ford E-350 Passenger and everything Cargo Vans used in Vaughan, Woodbridge, Ottawa Ontario, visit us a Vella's Auto Sales and Leasing. In addition to our Cargo and Passenger Vans, buy or lease a BMW 750 luxury vehicle in excellent condition. Our Greater Toronto Used Car Dealership as the vehicles and financing you need. For anyone searching in Vaughan, Toronto, Woodbridge or as far as Ottawa for like-new 2010/2011 Camaro Coupes, Audi A4 2.0T S-line, Chevrolet Grand Sport Corvette, 2012 GMC Terrain, 2012 Nissan Pathfinder, 2011 Jetta Diesel,  or a Sporty 2011 Nissan 370Z, call or visit us at Vella's Auto Sales and Leasing. Whether living in Alberta Canada or British Columbia, we can ship or vehicles to you.

If you are looking for Peace of Mind in dealing with a dealership that has been in business for over 35 years, then we are the #1 choice. Buy, finance or lease used Acura TL, Nissan Altima, Audi A3, Volkswagen Routan, Lexus RX350, Hummers, Nissan Pathfinder, Mercedes Benz ML Diesels and more. We currently have new arrivals on Audi A3 Toronto and Vaughan residents can afford.

We will do our best to exceed customer expectations by defining specific requirements and applying our knowledge as it relates to each individual customer in order to not only satisfy their needs, but to also establish long-term relationships.
Vella's Auto Sales & Leasing - Trusted Used Car Dealer in Vaughan Greater Toronto Ontario Canada For Over 35 Years! 



About Toronto

- Toronto is the largest city in our beautiful country Canada and the provincial capital of Ontario. Toronto is located in the Southern Ontario region on the north western shore of Lake Ontario Canada. In addition to serving the Greater Toronto Area, we ship cars all the way to Alberta Canada as well. So, whether you reside i Waterloo and looking for a like-new Camaro, or in the beautiful city of Ottawa, simple call or email us to send you a custom vehicle review video on our inventory.